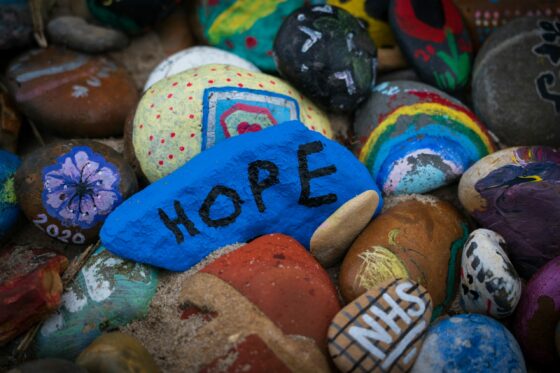 In my fifth grade classroom during the peak COVID era—a hugless year of masks, social distancing and hand sanitizer, I had a student named Chloe (watch her video here) who ended every one of her imagine stories with the same two words, "Imagine Hope!"  At the time I found those words catchy and inspiring–and so did my class.  In fact, eventually everyone ended their Imagine stories with "Imagine Hope!", and it became our class motto. Quite fitting for that specific year.
Why is hope important:
Hope is a word that gets used a lot but may not be understood as well as it needs to be.
I love this quote from Brene' Brown's book, The Gifts of Imperfection: Let Go of Who You Think You're Supposed to Be and Embrace Who You Are (I also really love this entire book)!
"Hope is not an emotion; it's a way of thinking or a cognitive process. Emotions play a supporting role, but hope is really a thought process made up of… a trilogy of goals, pathways, and agency.  In very simple terms, hope happens when…
We have the ability to set realistic goals (I know where I want to go).
We are able to figure out how to achieve those goals, including the ability to stay flexible and develop alternative routes (I know how to get there, I'm persistent, and I can tolerate disappointment and try again).
We believe in ourselves (I can do this!)."
This explains why Chloe's intuitive "Imagine Hope!" was so inspirational to my students.  Hope leads to action.  In The Imagine Project writing process, the writer is asked to write about a difficult time in life to help with emotional expression and processing—using the word Imagine to begin every sentence. Then in step 4, the writer is asked to write how they would like their story to end (also using the word Imagine), encouraging the writer to take a hopeful turn.
To better understand what hope is, let's first understand what hope isn't:
Hope isn't positive thinking. Too often positive thinking is used to avoid the uncomfortable emotions in life and can be wielded like a weapon by people who just want to avoid discomfort.  Comments like, "Look on the bright side!" or "Just think positive!" can lead to the suppression of genuine emotions that need to be expressed.  The Imagine Project leads with acknowledging the discomfort of life so that people can feel, see, and hear right where they are.  Instead of only positive thinking, the writer is asked to imagine their story taking a hopeful turn, it invites the writer and the listener to imagine a different future for themselves, and then to take steps forward to move toward that hopeful future while accepting the difficult present.
Psychologist Dr. Andrea Bonoir wrote about the health benefits of hope in an article for Psychology Today,  In it she writes "We feel less helpless and less uncertain about the future (and helplessness and uncertainty both increase our stress, in ways that can be detrimental to our health over time). Increased hope also gives us a buffer in order to sustain some setbacks: it can help with our resilience when there are bumps in the road, helping us have the energy to continue on the path that we are on before giving up."
In addition, Laura King, a researcher from the University of Missouri Department of Psychological Sciences, did a study on the health benefits of writing about life goals, and she discovered that, "Five months after writing, a significant interaction emerged such that writing about trauma, one's best possible self, or both were associated with decreased illness compared with controls. Examining the most hopeful aspects of our lives through writing—our best imagined futures, our "most cherished self-wishes" (Allport, 1961)—might also bestow on us the benefits of writing that have been long assumed to be tied only to our traumatic histories."
We encourage you to write your imagine story (click here for the free journal), when you get to the end of your imagine story, try framing the ending around a "hopeful turn." Sometimes people really struggle coming up with ideas for a hopeful ending to their imagine stories, especially students.  To assist with this, we have been given generous permission by Bret Stein, the creator of The Feelings Wheel (download it here). It is an integral part of the Center for Nonviolent Communication and now we are using it to help people identify feelings that can help drive their imagine stories.
Here is how it works:
The wheel is divided into twelve core emotions, six of which we feel when our needs are not being met, and six of which we feel when our needs are being met. The feelings are organized by color with opposites directly across from each other.  After writing your imagine story focused on the feelings you have when your needs are not being met, find the "hopeful turn" by identifying the opposite emotion you hope to feel directly across the wheel and then write what you imagine happening to experience that feeling.
It is my hope that you and your students will experience the power of The Imagine Project and the "hopeful turn" and that it will lead to goal setting, resiliency, and agency. Download the free journals here to get started!
Imagine Hope!
Written by Todd Daubert, Educational Consultant, The Imagine Project, Inc.