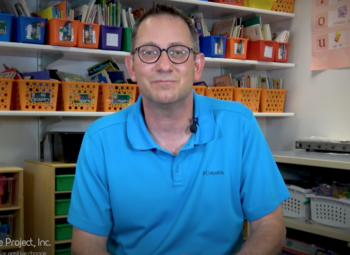 It's back to school time 2021 style and it's just plain stressful for students, teachers, parents, and admin. The reasons are obvious and endless. I feel for all of those dealing with these unique and yet common stressors in schools.
We don't need research to show us how stressed students are but here's a few important points. Three quarters (75%) of American high schoolers and half of middle schoolers described themselves as "often or always feeling stressed" by schoolwork. A PEW survey shows that 70% of teens say anxiety and depression are a major problem among their peers. There is very little research regarding stress with elementary school students, but it's definitely present. Watch the concern in their eyes, notice the increased behaviors of clinginess, unable to sit still, or even extremely quiet and a bit reclusive. Everyone is feeling it, no one is immune.
So how do you/we deal with this overwhelming stress? Beyond the common recommendations of deep breathing, exercise, eating healthy, yoga, laughter, and even a little bit of wine here and there (adults only), I suggest a beautiful, simple, and effective tool you can use yourself, with your students/children, and even as a family or group. It's even FREE. Just go to www.theimagineproject.org to download the 7-step journal (for free).
The Imagine Project is a writing tool that gently asks kids K-12 (and adults) to write about a stressful event in their life—beginning every sentence using the word Imagine…
Imagine…coming back into a classroom after being gone from your school for over a year.
Imagine…being afraid.
Imagine…not knowing if your friends will be there.
Imagine…wearing a mask and not seeing your friends and teacher smile.
Imagine…being scared you might have to go back to virtual learning.
Imagine…not being able to focus because you're scared.
Imagine…your teacher being kind and friendly.
Imagine…your friends feeling the same as you.
Imagine…relaxing and having fun in school.
Imagine…hope.
There are 7-steps to The Imagine Project (download the journals to follow each step in the journal format):
1. Write down something you love about your life.
2. Write down something that's been difficult in your life, recently or in the past.
3. Take the event you wrote down in step 2 (a difficult event) and write a story about it using the word Imagine… to begin every sentence.
After Step 3 you can ask those writing (students in a classroom, participants in a group, or even as a family) to read their stories out loud. This is a powerful part of the process (and completely optional), it helps those reading to own their stories and feel heard by others around them.
4. Now write down how you want that story to end? Or what you learned from it if it's already ended, all using the word Imagine…
Step 4 is a change in perspective, creating resilience and hope. (Click here to see the last 3 steps)
These steps give students the opportunity to express what's in their hearts, share it in class if they'd like to, and then move forward beyond their difficult story. Some teachers might fear kids sharing their difficult stories in a classroom setting. It can be hard emotionally, but so powerful in creating comradery and a sense of family among students. With over 350,000 kids reached through The Imagine Project, we have not had any reports of bullying from this process. The opposite happens, compassion and kindness is cultivated.
The Imagine Project can be used once a semester or even once a week. Then when kids are facing a difficult situation in classrooms, at home, in school, or community they have a tool to fall back on to help them cope. Listen to 31-year veteran teacher Todd Daubert talking about using The Imagine Project in his classroom. He used The Imagine Project once a week as a tool for students to process their emotional challenges.
Research on Expressive Writing, and our research shows using The Imagine Project is powerful in decreasing stress and creating resilience. It's simple and free!
For more information about The Imagine Project and helpful information on using it (videos, lessen plans, books, etc.), go to www.theimagineproject.org. Feel free to email Dianne through the website with any thoughts or questions.
Thank you and happy writing,
Dianne
Dianne is the founder and CEO of The Imagine Project, Inc., a nonprofit organization that helps children K-12 (and adults) process and heal from difficult life circumstances through expressive writing. Dianne has her Masters in Psychiatric/Mental Health Nursing, has written multiple books, is an international speaker, lives outside of Denver, CO, and has 3 grown children. Learn more about The Imagine Project at www.theimagineproject.org.