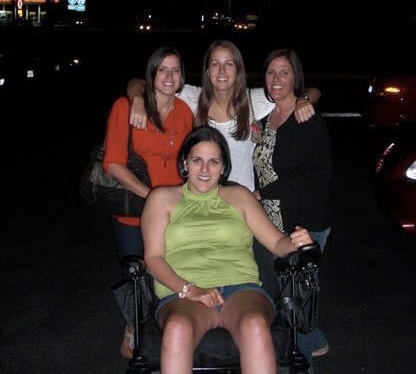 Written by Tara Imperatore
Each year, millions of Americans face the reality of living with a mental illness. May is a time to raise awareness of the impact trauma can have on the physical, emotional, and mental well-being in order to help reduce the stigma so many experience. This is the story of how one woman harnessed the power of expressive writing to heal her childhood trauma.
Before I went to bed on the night of July 25, 1995, I was a carefree 10-year-old girl. I was an avid reader, gymnast, cheerleader, and straight-A student who loved making people laugh with goofy impressions and aspired to be a Saturday Night Live cast member one day. Growing up in a small suburb of New Jersey with my parents and two sisters, Nichole, 14, and Alyssa, 5, I felt safe and secure, unaware that in an instant, everything was about to change.
My mom rushed into my room around 10pm and shook me awake, the panic in her voice unlike anything I'd experienced before. "Get up! Nichole broke her neck! Pack a bag. Let's go!" Rushing to the hospital, my parents were scared, but optimistic, expecting a broken neck to be healed with a foam neck brace. The reality we were up against is that my teenage sister, a talented athlete and aspiring chef, would never walk again.
Swimming at our uncle's pool that night, Nichole dove into the shallow end, hitting the bottom with such force that she broke three vertebrae and damaged her spinal cord. Paralyzed from the neck-down, she was classified a quadriplegic, rendering her wheelchair-bound for the rest of her life, and shattering the dreams my parents had for our family's future.
At home, the dynamic abruptly shifted. My 10-year-old carefree spirit disappeared among a long list of adult responsibilities. I loved my family so immensely that I took each task seriously and to heart, wanting to please my parents and ease their burdens. Riding bikes and having sleepovers turned into cooking, cleaning, doing laundry, and babysitting my little sister; all the while learning how to care for someone in a wheelchair and maintain my own friendships and schoolwork. The space to complain, cry, or be uncooperative no longer existed for me under the constant pressure to always put on a brave face and offer to help. Laying down at night no longer felt safe and secure, but stressful and filled with uncertainty.
This enduring support for my family came at the expense of my mental health. Conditioned to ignore and devalue my needs for years to follow, I lost myself in struggles with depression, anxiety, trichotillomania, panic disorder, and PTSD—diagnoses I wouldn't come to understand until I sought talk therapy for the first time at the age of 27. As a child, finding time to decompress was rare and I felt my playful, creative side eroding every day. It wasn't until I found my way to journaling that a sense of freedom and control was regained.
Finally, I could let my mind wander without judgment or explanation. I could play out scenarios and express my anger without fear. I could discover again what brings me joy and makes me who I am. The act of daily journaling led to short story writing, and eventually a college degree in journalism. Now 37, I've built a successful career as a professional writer, motivating others to connect with themselves, and those around them, through the power of the written word.
I was introduced to The Imagine Project during a recent therapy session. My doctor told me about their dedication to help people, especially children, process stress and/or trauma through journaling. Their mission to give kids a voice for positive change and empower them to imagine a new story in their lives hit close to home. I was so inspired that I felt compelled to write my own imagine story. Reflecting on the lowest points in my life and seeing how far I've come and the growth I've achieved was more healing than I could have ever imagined.
Imagine…finding out your sister was in a life-threatening accident
Imagine…learning she will never walk again
Imagine…being only ten years old when your whole life changes
Imagine…growing up way too fast
Imagine…feeling like you can't act like a kid anymore
Imagine…prioritizing everyone else's needs over your own
Imagine…a teacher taking notice of your pain and encouraging you to journal
Imagine…exploring your imagination and finding yourself again
Imagine…being brave enough to share your words with the world
Imagine…becoming a professional writer and making a career out of storytelling
Imagine…inspiring others with your stories of perseverance and strength every single day
By: Tara Imperatore, age 37
Thank you so much Tara, we are so grateful to have you share your story with us. To learn more about The Imagine Project and download our FREE journals go to www.theimagineproject.org. Tell friends, family, and educators–help us spread the word. Thank you,
Love,
Dianne
Dianne is the founder and CEO of The Imagine Project, Inc., a nonprofit organization that helps children K-12 (and adults) process and heal from difficult life circumstances through expressive writing. Dianne has her Masters in Psychiatric/Mental Health Nursing, is a thought leader in stress and trauma in children, has written multiple award winning books, is an international speaker, lives outside of Denver, CO, and has 3 grown children. Learn more about The Imagine Project at www.theimagineproject.org.