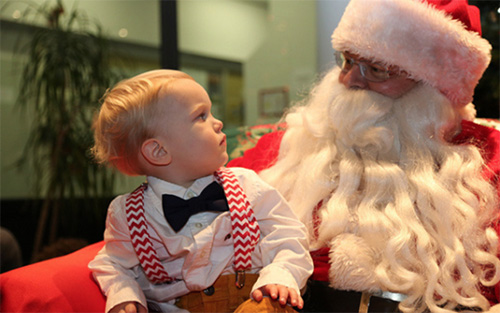 Tis the season to be jolly, overwhelmed, and/or stressed. The holiday season can bring out the best, and sometimes the worst in us. Many people love the holidays: spending time with family and friends, recreating traditions, and feeling a sense of giving are all positive aspects of the holidays. But there are a significant percentage of people who feel more stress around the holiday season. In our already fast paced world, the holidays add more to our list of things to do, which may create unwanted pressure, even overwhelm for some. Then there's our holiday history from our own childhood. You may be lucky enough to have beautiful memories from your holidays as a child, but many are left with the memories of increased alcoholism, domestic abuse, or the lack of having gifts to open.
Parents, teachers, and others who are navigating the holiday season are not alone in feeling the stress of the holidays. Our kids are feeling it too. They sense, know, feel, see, and experience the stress around them. They might be feeling the pressures of the end of the school semester, or wondering if life is going to get more challenging throughout the holiday season as history has shown them, or wondering if there will be money enough for gifts for all. If you are seeing any signs of stress in your children: anxiety, sadness, turning inward, aggressiveness, anger, odd behaviors and/or illness here are 5 simple tips you can try to lesson their stress:
Lighten the mood with laughter: Nothing relieves stress better more than a good laugh. Laughter is powerful medicine! It's been found to relax the body, open our heart, improve our immune system, and decrease our stress hormones. Do whatever makes you and your child/student laugh. Watch funny videos or movies, play games, listen to a funny podcast in the car, whatever works for all of you. It only takes a few minutes, but it's well worth the time and effort!
Go for walk outdoors: Science has shown us that being outdoors lifts the spirit. If you are lucky enough to life in a warm state, be sure to take your shoes off and feel nature under your feet. If it's chilly outside, put on the layers and experience it anyway. Make it an adventure to find or see new things. Play a game or walk to visit a friend. Nature is good medicine!
Create a new tradition: Structure and knowing what to expect helps lesson stress. Giving kids the awareness of their background or family traditions help them understand who they are and where they come from. Do something that is easy and won't stress you out trying to make it happen. Bake cookies, decorate the house, cook a dish from your heritage. It doesn't have to be complicated, just something that feels like tradition.
Talk to your kids: When we are busy, we often become short with our answers and forget to listen. Be sure to take time to ask your kids/students how they are doing. Use open ended questions using "How, what, why…", asking them about their day. See what excites them the most about the holidays, and what is the hardest part. Be sure to take the time to listen. The car, mealtime, and before bed are good times for conversations.
Write your Imagine stories: Most of us have holidays that are both good and bad. The positive experiences make us smile and love the holidays. The negative experiences can negatively influence for a lifetime if we don't do the work to process and let go of negative experiences. The Imagine Project Journaling process can help children and adults express any negative experiences about the holidays (or otherwise), let them go, and create a new experience in its place. Doing this process around the holidays at school will help kids who are feeling stressed to express themselves. Doing the process as a family will help everyone involved understand how others are feeling, and bring you closer as a family. To learn more about the journals (and download them for free) go to theimagineproject.org.
May this holiday season bless you will the gifts of peace, love, and hope.
Love,
Dianne
Dianne Maroney is a Clinical Nurse Specialist in Psychiatric/Mental Health Nursing. She is the founder of The Imagine Project, Inc., a nonprofit organization that helps kids, teens, and adults overcome challenging life circumstances through expressive writing. Dianne is a thought leader in the area of stress and trauma in children. Her simple, yet profound 7-step writing tool, now used by schools across the US, gives kids and teens the opportunity to rewrite a challenging personal story and Imagine new possibilities in its place.