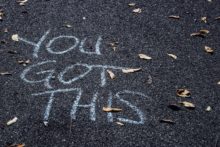 Stress is running high right now. Everyone is feeling it, whether it's a change in our everyday routines, being worried about a loved one, or the extreme stress of losing your home and/or job. If adults are feeling it, so are our children—no matter what the age. We all need some help coping. Mindfulness can be a great tool to keep us grounded so that our fear and worry emotions don't get the best of us. The Imagine Project is a form of Mindfullness, it helps with processing how we feel, as well as centering ourselves.
But what does mindfulness really look like? Mindfulness is the conscious decision to pay attention to your body, mind, emotions, and external circumstances. You might be thinking, why would I do that—doesn't that make me fell worse. The trick is to do so from a nonjudgmental place—a place of noticing and letting go of anything that doesn't serve you. It actually really works! Research even shows that noticing—just noticing what's happening in your mind, head, and heart, without trying to fix or change it, just watching and noticing it—allows it to move through and move on. Research also shows that mindfulness helps improve immune function (fewer illnesses), increases concentration, strengthens resilience, as well as many other positive effects.
So how do we do this? Experiment and practice—with ourselves, and our kids. Noticing your breathing is always a great place to begin. Bring your attention back to your breath, and practice long, slow, mindful breathing. This is key to embracing the moment and restoring or strengthening calm in your brain and body. Try sitting quietly and gently paying attention to your breath, counting slowly as you breathe in and out. The goal is breathing in to a count of about 6 or 7, and the same breathing out. You may have to work at going this slow, but just try it at your own pace and work at moving to a slower, deeper breath. Then practice at other times too, in your car, waiting in a doctor's office, or watching TV. The more you experiment and work at it, the more prepared you'll be when you really need it to calm yourself in stressful situations!
Practicing mindfulness with kids happens when you create quiet times with them and show them techniques and tools to help them calm down. Here are a few tips to help:
Sit and do the breathing technique together—practicing together really helps.
Have a snack or even cook together. Noticing the food: the taste, the smell, the textures.
Go for a walk, notice what's going on around you in nature; the clouds, the weather, the landscape—look for 4 leaf clovers or dig in the dirt.
Read together, do a puzzle, chase bubbles, draw, or paint.
Share a breathing hug together, take a few soft, slow breaths as you hold each other.
Notice and share how you are feeling, your body sensations and how they match your emotions and thoughts.
Write your Imagine stories together.
Mindfulness combats stress by allowing us to slow down our minds so we can pay attention to what's happening in our bodies and emotions. Then the emotions can move through our minds and bodies, which will lessen our stress. Sometimes it's difficult to connect to and understand how we feel, this is where The Imagine Project comes in. Writing your story, each sentence beginning with the word Imagine… helps put our feelings out into the world, helps us process our experiences that are causing stress, move through them, calming our minds and bodies—the goal in combating stress.
Here is a wonderful website to help you get started with Mindfulness: Mindfulness and Meditation Matters. 
Try writing your imagine story with your child and/or your students. The process is free, simple, and prompted by a 7-step journaling process. Go to www.theimagineproject.org to learn more about The Imagine Project and download the journals. Give it a try, it will help calm your's and your child's stress, while giving the opportunity to Imagine new possibilities in life!
Dianne Maroney, RN, MSN
The Imagine Project, Inc., is a nonprofit organization that helps kids, teens, and adults overcome challenging life circumstances through expressive writing. Dianne is a thought leader in the area of stress and trauma in children. Her simple, yet profound 7-step writing tool, now used by schools across the US and internationally, gives kids and teens the opportunity to rewrite a challenging personal story and Imagine new possibilities in its place.