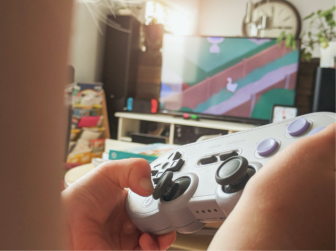 The ways that children use technology on a daily basis is changing. More and more, younger generations are spending prolonged periods of time using digital devices. Unfortunately, this extended screen time can have a plethora of adverse effects on children. Read further to learn more about these anticipated challenges and solutions that will help limit these potential dangers.
Mental Effects
Studies show that the average American child between the ages of 8-10 will spend 4-6 hours a day looking at screens. In the wake of the pandemic, it's likely that these numbers have increased as a result of virtual learning and limited social gatherings. Although digital devices have allowed children to chat with friends online and stay entertained through gaming, movies, or social media, mental health can be negatively impacted as well.
Studies surrounding increased screen time have shown a significantly higher chance of being diagnosed with depression or anxiety. As children spend more time interacting with screens rather than the world around them, they are opening up the door to poorer mental health. Many factors can play into this; they may be less likely to be having genuine interaction with others when clocking in screen time (missing important lessons about themselves and the realities of relationships), and/or it can be used as a distraction from other problems at hand. Since dopamine is released during screen usage, it can become addictive if not controlled.
Additionally, it's important to note the role that social media plays in the lives of children today, which is something that older generations didn't have to navigate. Social media can create an environment for cyberbullying and comparing oneself to others. This type of constant interaction online can lead to self-esteem issues and pressure to reach societal standards.
Physical Effects
In addition to some mental health concerns, overuse of digital devices is also known to have certain physical effects on children as well.
One area of concern is the harmful blue light exposure that is a result of extended screen time. Blue light from devices like cell phones or laptops can harm the eyes. Why is this? Blue light wavelengths are a higher energy than other colors on the spectrum, making it harder for eyes to filter out on their own, and as a result increasing damage.
Symptoms of blue light on the eyes include eye fatigue, headaches, and retinal damage. Blue light has the ability to interrupt the body's circadian rhythm, which is responsible for signaling the body when it's time to fall asleep. For children, sleep is a critical component of development—affecting their attention span, behavior, and overall health, so interrupting this cycle can be detrimental to their focus, energy levels and productivity during the day.
Although it's unlikely to completely cut out screen time, especially considering many students are engaging in virtual learning as a result of the pandemic, a pair of blue light glasses can be a good tool for parents to invest in. This type of glasses contains lenses that actively help reduce the negative effects of blue light by filtering out the harmful rays, and they can be worn during homeschool lessons or even while playing video games. Considering visionissues such as depth perception and focus can grow during their youth years, it's important to take a proactive step against anything that may be hindering their sight in the future, blue light glasses are a step in the right direction. The fun frames and colors these glasses come in make it an easy way to protect your children's eyesight and help promote better sleeping habits.
Another physical drawback from extended screen time is the link between sedentary activities and major health concerns, like diabetes or obesity. In fact, studies show that increased screen time poses a risk factor for being overweight in children and adolescents. Considering that children are often sitting or lying down when they are engaging with their digital devices, they can develop patterns of inactivity.
How to Limit Screen Time
As previously mentioned, it may not feel like the easiest time to try to limit children's screen time, but it's 100% possible. A great place to start is offering other creative outlets for children to express themselves and connect withothers directly. With limited social interactions available to them, giving them other opportunities to release energy can positively impact their physical and mental health.
Focusing on wellness boosting habits can serve as a welcome distraction and teach your child how to enjoy making healthy choices. Encouraging children to spend time outside and participate in adequate amountsof exercise will lead to less time spent on digital devices and form more productive daily habits. Planning activities to do with family and friends can be a good motivator to turn the screens off and connect with others face-to-face.
Expressive writing is also a great way to channel attention into a more valuable hobby than spending countless hours looking at a screen. The Imagine Project is a great form of expressive writing that allows kids and teens to express their frustrations and stress in a healthy manner. Not only does this type of writing build self-esteem and promote better mental health, but it also helps children to develop self-awareness that can be harder to learn during this time while separated from their peers.
In Conclusion
Screens are part of our lives now and children rely on them heavily. As beneficial as they can be it's important for families to remember a few of the potential dangers that come along with screen time. Creating healthy schedules for using technology and finding different activities outside of screen time can help children flourish amidst a digital age and protect their physical and mental health.
Good luck! Love,
Dianne Maroney, RN, MSN
Dianne is the founder and CEO of The Imagine Project, Inc., a nonprofit organization that helps children K-12 (and adults) process and heal from difficult life circumstances through expressive writing. Dianne has her Masters in Psychiatric/Mental Health Nursing, has written multiple books, is an international speaker, lives outside of Denver, CO, and has 3 grown children. Learn more about The Imagine Project at www.theimagineproject.org.