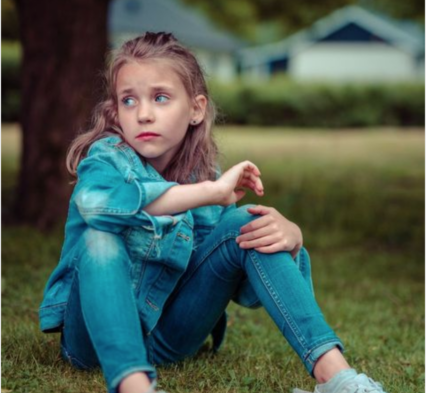 Is Your Child Stressed?
Caught up in our own challenging day-to-day lives, we often assume our children live a relatively carefree life without stress. But children's lives can actually contain multiple sources of stress, including the pressures of peer groups, sibling rivalry, highly demanding schedules, and family expectations. It's also not unusual for kids to experience problems dealing with boyfriends/girlfriends, having too much screen time, and of course, handling social media. Tension and anxiety can often arise from within their own minds too. As children grow, they frequently feel pressure from their own thoughts as they attempt to understand who they are, how the world works, and how they fit into it.
Many children also experience stressors that go above and beyond what's considered typical and normal. Family life can be extremely stressful, such as when there is marital discord, mental instability, financial worries, abuse, or neglect. If kids hear parents, friends, or family members talk about troubling personal situations or community violence, this can add to their worries. Inappropriate exposure to media reports on crime, war, terrorism, tragedy, or political strife can also heighten a child's stress levels. And for some children, school is a source of excessive stress. Children may feel overwhelmed when they don't understand or can't deal with their workloads. Children can also be stressed by feeling socially or academically inadequate, like they don't fit in, or are not accepted for their strengths and weaknesses. Being bullied or shunned is extremely stressful.
Stress is a normal, unavoidable part of life. It's even good for a child to experience small amounts of manageable stress, such as frustration with learning a new skill, dealing with being late to a birthday party due to traffic, or worrying about saying the wrong line in a school play. Unfortunately, when a child experiences frequent, chronic, or overwhelming stress, survival mode becomes the norm instead of an occasional occurrence, and the brain and body stay in a stressed state. These chronic stress patterns can hamper healthy brain development, leading to an imbalance where the limbic system becomes overdeveloped and hyperreactive. This brain imbalance can create significant mental and emotional issues such as agitation, anxiety, impulsiveness, hyperactivity, an inability to focus, lacking empathy, low emotional control, poor decision-making, and weak problem-solving abilities. Chronic stress can also cause a host of minor, and sometimes significant, physical health problems, such as an impaired immune system, slowed growth, aches and pains, and poor digestion.
How can you tell if a child is over-stressed? Look for physical and behavioral symptoms. Physical problems might include stomachaches, frequent headaches, acne, dizziness, bowel problems, bedwetting, change in appetite or food cravings, and frequent or lengthy illnesses. Behavioral symptoms of stress are varied as well: a child might become clingy; the quality of his or her school work might change; new compulsive habits such as hair twirling, nose picking, hand washing, or thumb sucking might develop; sleep patterns might change (too much or too little); mood swings might increase; a child might begin to lie or become quiet or secretive; eating habits might change. If there is any notable regression or worrisome change in a child's behavior and/or decline in physical health, it is important to step back and consider whether too much stress is the root cause.
How Can You Help a Stressed Child?
First and foremost, spend extra time listening. Your careful, quiet listening helps a child feel heard and validated.
Hold space for big emotions. This means being a compassionate, nonjudgmental witness while a child expresses him- or herself. Encourage the child to verbalize feelings, draw them, and/or move his/her body.
Set limits if needed, such as, "When you're angry, don't touch anyone or anything." Or, "Would it help to run up and down the hall for a few minutes?"
Instead of interjecting interpretation or drawing your own conclusions, support the child's developing ability to analyze and solve problems by reflecting what you've heard and asking exploratory questions.
Remember, questions that only require a "yes" or "no" answer can stop conversations in their tracks. And "Why" questions can feel pointed or punitive instead of caring.
Ask open-ended questions that inspire sharing and reflection, such as, "How are you feeling?" or "What was your day like today?" Or simply invite them to "Tell me more."
Reflect back what you heard, such as, "It sounds like you had a very frustrating time and got hurt by your friends today."
Notice how your child is feeling and reflect on the emotions expressed, "It sounds/looks like you're really angry (sad, hurt, worried, etc.)."
Ask for thoughts about why that happened and ideas for possible solutions. Let them know you can offer help if they want it. Don't lead their emotions/ideas expecting good or bad stories, just listen, reflect, and love.
Help them express themselves by writing about their stress. Use The Imagine Project simple and free journaling process to support them in their expressions. Download the Journal here.
Good luck and take care,
Dianne
Dianne is the founder and CEO of The Imagine Project, Inc., a nonprofit organization that helps children K-12 (and adults) process and heal from difficult life circumstances through expressive writing. Dianne has her Masters in Psychiatric/Mental Health Nursing, is a thought leader in stress and trauma in children, has written multiple award winning books, is an international speaker, lives outside of Denver, CO, and has 3 grown children. Learn more about The Imagine Project at www.theimagineproject.org.