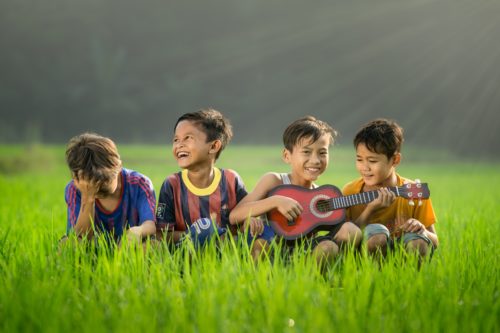 A very important question all parents, teachers, counselors, youth leaders, etc. must always be asking is, "How do we teach our kids to be resilient?" Resilience is so important when trying to navigate and succeed in our complicated world. Research shows stress is growing with our younger generations. Social media, faster moving information, pressures from peers, parents, and education is intensifying quickly. Knowing how to teach our kids to cope with life and become resilient is critical to their ability to overcome stress and become resilient in their lives.
Everyone has the ability to be resilient; some kids are naturally more resilient than others based on two factors; their genetic make-up and their environment. Two individuals with the same exact genetic makeup may have two entirely different expressions of their genes, purely because of environmental factors. For example, in studies of identical twins adopted into different homes, researchers found many similarities (personality traits, interests, manner- isms), but also many differences, suggesting that environmental factors can "turn on" certain genes. Genes that make us susceptible to conditions like depression, cancer, and bipolar would "turn on" in one twin and not in the other, due to differing circumstances such as level of parental nurturing, the physical environment, school experiences, individual and family stress.
Even though we are influenced by our genetic makeup, and our environment, coping can be learned which boosts our resilience. A child learns to cope with adversity by encountering difficulty and figuring out how to work through it. This process begins at a very young age—falling over when learning to walk, for example—and trials and errors continue throughout life. To strengthen coping, let your child struggle and make mistakes without jumping to fix it for them. Instead, let them do it. Let them fall, listen with compassion, be a supportive presence, and whenever possible and advisable, let them figure out their own solutions. Your trust in their ability to prevail boosts their resilience, a key feature of emotional wellness.
Here are 7 tipsfor boosting emotional resilience in your child/student (adapted from the American Psychological Association):
Self-care:Many of us have moved have away from embracing self-care for ourselves, and our kids/students—yet if our buckets are empty we are pretty much worthless. Taking care of yourself is making a come back—and it's critical to teach kids not to over book themselves; play everyday, laugh everyday, take time to be quiet at least once a day (10 minute meditations are perfect), and be mindful of listening to others. (click here for more information on self-care)
Socialization:Children learn through face-to-face interactions with other children (and adults). Give them opportunities after school and on the weekends to just be with others (without a computer or device) so they can learn about themselves and others.
Giving back:Kids learn so much by seeing and helping others in need. It feels good to give to those who need it—it feeds the soul and teaches them so much about life.
Sleep and eating properly: None of us can function well on lots of sugar and lack of sleep. Eating a healthy diet filled with protein, veggies, and fruit will fuel their brains—and their resilience. Sleeping at least 8-9 hours (more for younger ones) will give them clear minds and the ability to think and move.
Talk about feelings:We as a society often don't like to talk about how we feel; yet processing challenges in life out loud or on paper is imperative to building resilience. Talking or writing about the experience not only helps us understand what we've been through, but it gives us a better look at how we've already coped (good or bad) and thoughts about what else we might do when facing difficult situations. The Imagine Project journaling is a simple and powerful format for writing about life experiences.
Positivity: There is so much research on the power of positivity. People who live longer are often positive by nature. Teaching kids that there is always something positive in any situation is so important to keeping their brains and bodies healthy and a smile on their face.
Imagining new possibilities: Teach a child to imagine and define their goals, supporting them in achieving their goals, then joining in when they are proud of themselves will build any child's resilience. Some kids need smaller goals, some bigger, but every child needs to imagine new possibilities in their lives, hope is everything in keeping us resilience.
Resilience is a critical part of emotional wellness for all of us. It's important to teach kids—no matter what their age—that they can overcome obstacles, imagine new possibilities, and enjoy life no matter what they face. Humans are resilient—I see it every time I step into a classroom and listen to the powerful Imagine stories of all ages. Download The Imagine Project Journal and try it with your child or classroom. There will be ample opportunities to teach and show resilience—I promise.
Good luck and take care,
Dianne
Dianne Maroney is a Clinical Nurse Specialist in Psychiatric/Mental Health Nursing. She is the founder of The Imagine Project, Inc., a nonprofit organization that helps kids, teens, and adults overcome challenging life circumstances through expressive writing. Dianne is a thought leader in the area of stress and trauma in children. Her simple, yet profound 7-step writing tool, now used by schools across the US and internationally, gives kids and teens the opportunity to rewrite a challenging personal story and Imagine new possibilities in its place.